31 August, 2023
Radiate Beauty with Amoré Paris, Solawave, and Better Not Younger
Local Steals & Deals is your one-stop shop for real deals and real exclusives on amazing brands. Check out our hosts below, sharing some of our best sellers. Available for a limited time only–while supplies last!
To access these great savings:
Use the links provided below.
All the offers below are only available while supplies last.
Beauty Begins Here!
Get ready to dive into products that are all about giving your self-care routine a boost! Picture this: a natural teeth-whitening powder to make your smile shine, an anti-aging skincare wand that brings life back to your skin, and a hair & scalp duo that gives mature hair a new lease on life. These products are a complete package for looking and feeling your best. Take advantage of our amazing deals!
Amoré Paris
Deal: $27.99
Retail: $39.99
(While supplies last)
Say goodbye to stubborn stains from coffee, tea, and more! Amoré Paris Teeth Whitening Powder is a remarkable solution that redefines teeth whitening. Enriched with the natural goodness of coconut and activated charcoal, it brings a new level of brilliance to your smile without using harsh chemicals. With a simple dip and brush, you'll be on your way to unveiling a more vibrant and confident smile. Shop our deal on a 4-month supply and achieve a radiant smile that lights up any room.
Shop now
Solawave
Deal: $69.99
Retail: $149.00
(While supplies last)
Solawave's Anti-Aging Skincare Wand is like a mini spa day for your face. The red light therapy aims to stimulate collagen production and reduce those fine lines, while the microcurrent gives your facial muscles a gentle workout, promoting a firmer, more lifted appearance. Pamper yourself and give your skin some extra love with this wand that might be your new best friend. We've got the best deal around. Shop now!
Shop now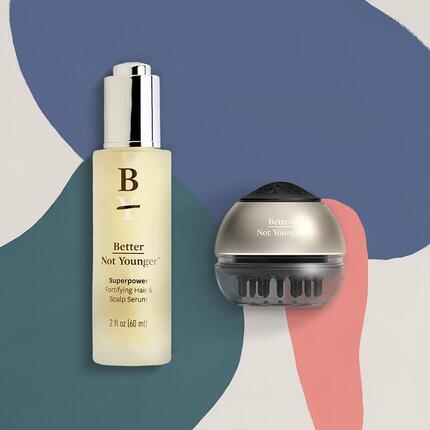 Better Not Younger Superpower Hair & Scalp Duo
Deal: $45
Retail: $76.00
(While supplies last)
Wave goodbye to lackluster locks and hello to a world of vibrant, healthy hair! The Superpower Hair & Scalp Duo by Better Not Younger is your ultimate hair care dream team! Designed with your fabulous locks in mind, this dynamic duo is here to give your hair the love it deserves. The award-winning scalp serum is accompanied by a blissful massaging applicator, meticulously crafted to combat the initial indications of aging hair. You'll love the plant-derived components that infuse new life into your hair's volume, amplifying its vitality and resilience day by day. Shop this deal and witness your hair transform into a picture of health and strength!
Shop now
©2023 Cox Media Group