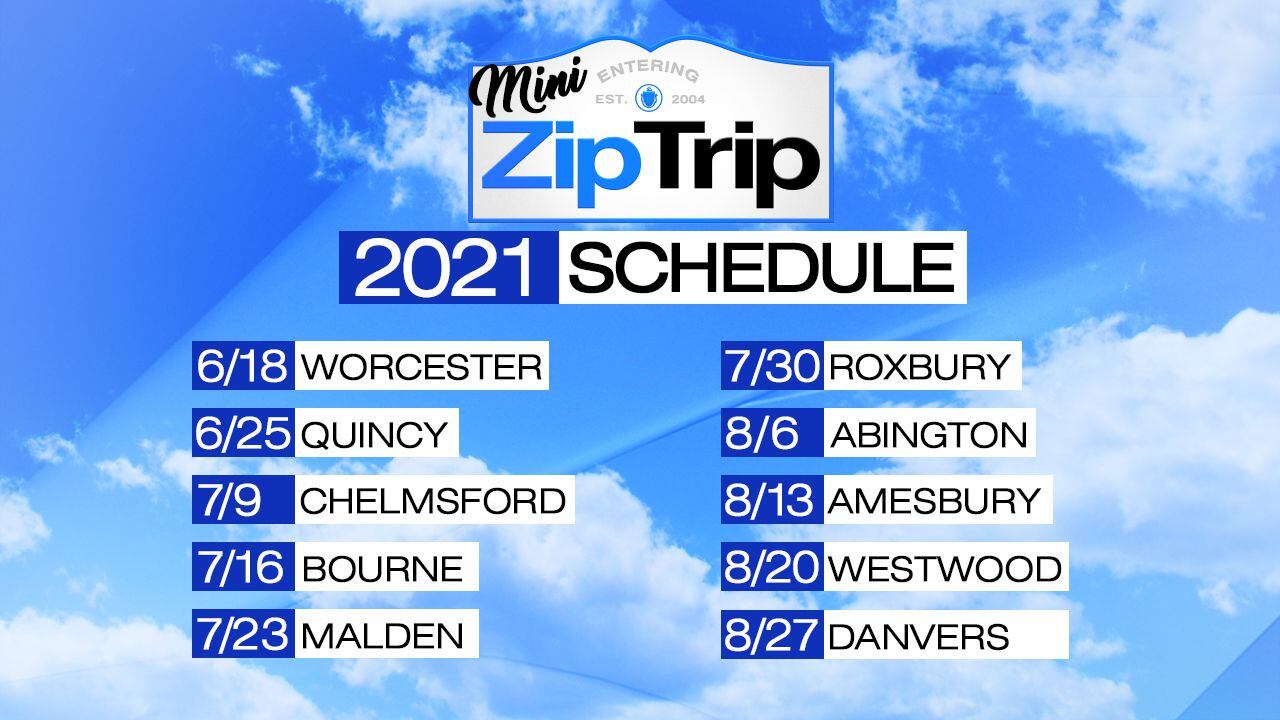 BOSTON 25 MORNING NEWS TO LAUNCH ZIP TRIPS ON FRIDAY, JUNE 18TH
The "broadcast only" events will showcase 10 cities and towns across the region
Boston 25 Morning News will continue its Zip Trip live broadcasts for the 18th straight year with Friday morning stops in Worcester (6/18), Quincy (6/25), Chelmsford (7/9), Bourne (7/16), Malden (7/23), Roxbury (7/30), Abington (8/6 ) Amesbury (8/13) Westwood (8/20) and Danvers (8/27).
The Zip Trips will be a mix of pre-taped features and live interviews that focus on each city or town's strong sense of community pride, first-class residents, local attractions and hidden gems.
In response to changes brought on by COVID-19, Boston 25 will put a hold on welcoming live, onsite crowds to Zip Trips this year. Instead, the morning team will head out to each Zip Trip town taking tours, visiting neighbors, talking to small business owners, and pulling back the curtain on what makes each Zip Trip location a great place to live. From peaceful, relaxed vibes to bustling city life with lots to do -- we'll share what locals love about their city or town.
Boston 25 Morning News anchors and reporters will rotate to host the summer-long broadcasts. Morning anchor Gene Lavanchy will kick-off the Zip Trip season live from Polar Park in Worcester from 6 a.m. to 10 a.m. on Friday June 18th.
"After visiting more than 250 communities over the years, it's wild to see how some places have reinvented themselves in the best possible way," Lavanchy said. "We're betting everyone will discover something they didn't know about the cities and towns on this year's list."
Boston 25 Morning News will partner with the Greater Boston Food Bank during Zip Trips to help families struggling with food insecurity. Zip Trip partners include Real Living Suburban Lifestyle Real Estate, Digital Federal Credit Union and The Massachusetts Lottery.
Videos from our 2020 Zip Trips
Latest Videos